The Vaccines For Children (VFC) program is a federally funded program that provides vaccines at NO COST to children who might not otherwise be vaccinated because of an inability to pay. Children who are eligible for VFC vaccines are entitled to receive those vaccines recommended by the Advisory Committee on Immunization Practices (ACIP) at NO COST.
The Vaccines for Children (VFC) Program helps provide vaccines to children whose parents or guardians may not be able to afford them. This helps ensure that all children have a better chance of getting their recommended vaccinations on schedule. These vaccines protect babies, young children, and adolescents from 16 diseases such as pertussis (whooping cough) and chickenpox.
Who is Eligible
A child is eligible for the VFC Program if he or she is younger than 19 years of age and is one of the following:
Medi-Cal eligible
American Indian or Alaska Native
Uninsured
Underinsured – means the child has health insurance, but it:

Doesn't cover vaccines, or
Doesn't cover certain vaccines, or
Covers vaccines but has a fixed dollar limit or cap for vaccines. Once that fixed dollar amount is reached, a child is then eligible.
Children whose health insurance covers the cost of vaccinations are not eligible for VFC vaccines, even when a claim for the cost of the vaccine and its administration would be denied for payment by the insurance carrier because the plan's deductible had not been met.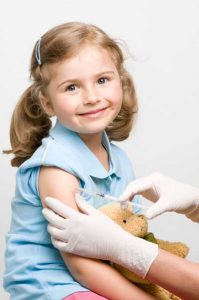 History of the Vaccines for Children Program
In 1989 – 1991, a measles epidemic in the United States resulted in tens of thousands of cases of measles and hundreds of deaths. Upon investigation, the CDC found that more than half of the children who had measles had not been immunized, even though many of them had seen a health care provider.
In partial response to that epidemic, Congress passed the Omnibus Budget Reconciliation Act (OBRA) on August 10, 1993, creating the Vaccines for Children (VFC) Program. VFC became operational October 1, 1994. Known as section 1928 of the Social Security Act, the Vaccines for Children program is an entitlement program (a right granted by law) for eligible children, age 18 and younger.
Immunization Schedules for Infants and Children (Click Here)